5 Creative And Innovative Uses Of The Magnet That Are Sure To Blow Your Mind!
Deborah says, "I fell in love with this article as soon as it was suggested to me. For a moment, I wondered how it fits with the social media and marketing focus of this blog. Then, it hit me. For all of you who were thinking of merchandising with magnets, here you go! Not only is this an entertaining and awesomely creative post, but Ian Shaw gives those of you who are marketing with magnets some great ideas on how to market them.

Note: Spolier Alert coming: Make your own "chip clip magnet" with your brand, to save the world from soggy chips and tell them about your brand!"

Now, on to the article...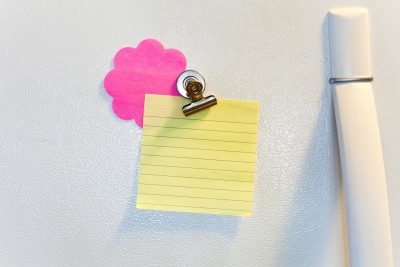 When we think of magnets, our imagination conjures up the image of recipes and kids painting on refrigerator doors. The furthest it goes is picking up nails and needles that are dropped on the home floor while working on some do-it-yourself home project. However, let the boundless imagination flow and you can come up with creative and fun magnet uses. Some of the rare and mind blowing ones are given below-
A pen in need is a pen indeed
Most of us find ourselves in situations wherein we need to note down something immediately, but a pen is nowhere in sight. A magnetic pen can come to your rescue at that time. A magnet can be slipped in between the pen handle and the body and then it can be stuck in a place where it stays put, e.g. a refrigerator door. Whenever you find yourself in a situation of need, you know you can head to the fridge and find the pen waiting for you.
Let the magnet do your dirty job
Sometimes, things go wrong; gravity plays its role well and you find yourself putting your hand down the drain to fetch something. Stop yourself right there! Putting your hand down the drain isn't a pleasurable experience, but is done only because it needs to be done. Not anymore though! Attach the magnet at one end of a twine and use it to fetch whatever has made its way down the drain. Why soil your hands when the same job can be done with the help of a magnet?
No more fighting with the remotes
Fighting over the television remote is a usual sight in most houses. However, there is another tussle that ensues but this one happens with the remote and not over it. There always comes a time in everyone's life when they have to resort to changing the batteries in the remote and they find themselves struggling with it. The batteries wish to stubbornly stay stuck in even after you have used all your strength and chipped a nail or two to pull it out. No more will this struggle go on. Use the mighty magnet to pull it out for you!
Your search ends here!
After a new paint job is done and the house is looking its resplendent best, most of us find ourselves moving our hands on the walls. This activity is more utilitarian rather than appreciative. We find ourselves looking for a screw or nail head that have been hidden by the fresh paint. This activity can be difficult if the painter as done the job well. At this time, a tiny magnet stud can be of help. You can look for such heads with its help and there is no need to ruin the paint by making any markings; just leave the magnet there.
Treat yourself to some fresh snacks
This would puzzle most as it isn't easy to imagine a connection between the magnet and food. However, don't let anyone lead you into believing that it isn't possible. Most of us have found ourselves with a bag of unfinished chips. After a while, humidity plays its part and the chips aren't crispy at all. Never let that happen again with the help of a magnet. Fold the bag of chips over and place magnets on its either sides. This will make sure your chips stay as fresh and crisp as new!
Magnet has many more uses than just the conventional ones. Let your imagination know no boundaries and you will find yourself coming up with innovative and creative ideas!
---
This post was generously provided by
Ian Shaw
.
---
Ian Shaw is a leading magnet supplier in Australia. He has a keen interest in science and knows all about the properties and uses of magnets. In this post, he has listed some of the best and unknown uses of magnets.
---