The technology behind email is incredibly powerful when you think about it. If you look past its more traditional uses, though, it becomes even more so. For instance, consider sending yourself personal reminders throughout your day via email. It effectively turns your email into a web-based notification or reminder platform, and it's another, unorthodox way to use your email account.
With that in mind, it makes you wonder how many other ways you can use your email. What are some things you can do to extend your email experience?
Believe it or not, there are many things you can do to improve your email experience, some of which call for using your account in unique ways. Take a look at these ideas: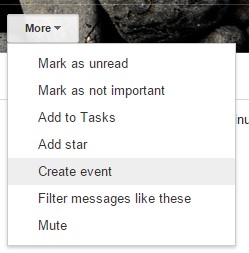 1. Add Calendar Entries from the Gmail Window
You probably often receive emails that reference dates, times or various calendar events, right? Did you know that you can easily add these entries to your calendar of choice?
In Gmail, when you get an email that mentions a date or time, you'll notice the system adds dashes underneath the appropriate info. All you have to do is a click on that date or time, and you'll be prompted to add the information to your calendar. If you agree, you'll be able to edit details about the event before saving it to your calendar.
For some reason, if your date and time stamp aren't highlighted, all you have to do is click the "more" button in the top right of the window, and choose "Create Event." It will deliver a prompt where you can enter all the necessary information.
The nifty thing about Gmail is that when you look at your actual calendar, the event entry will also include a link to the email you added it from.
2. Convert Your Voicemails to Email
It's so much easier to check your email and respond accordingly than it is to dial-out to your voicemail account, check your messages and then respond. If you're the type of person that would much rather convert voicemails to emails, there are tools for that.
The beauty of it is that you can even respond through email to those who left the voicemail, provided they leave the right contact info.
These services will convert your voice messages, and then forward them to you via email so you can take action. It's great if you're always out in the field and busy, or even if you work somewhere with little to no mobile service.
3. Install Third-Party Apps
There are many third-party apps that can augment your email experience by adding new features and functionality.
Todoist, for example, adds a whole slew of collaboration and productivity features to your email experience. You can share and collaborate with your team, create sub-tasks and projects, use powerful labels and filters, set personal reminders and much more. Essentially, it's a complete overhaul for your Gmail account.
It's not the only service out there, either. Depending on what you're looking for, you can find a ton of apps that add new features and support to Gmail.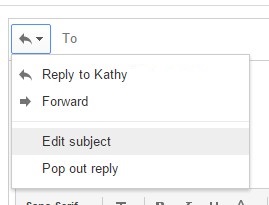 4. Change the Subject Line for a Reply
Usually, when you reply to a message through Gmail, it retains the same subject line as the original email. In many cases, that subject line might not relate to what's being discussed, or you may want to use something more relevant so you can easily search for that particular email later.
To do this, simply choose the down arrow — situated next to the reply icon — and select the "edit subject" menu item.
This allows you to label the reply with a more relevant description. It might seem silly at first, but once you start using it, you'll realize how valuable it can be — especially if you find yourself searching through your archived emails on a regular basis.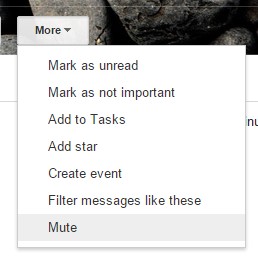 5. Mute Group Conversations
Every once in a while, you might find yourself wrapped up in a group conversation or email thread that you'd rather not be a part of. If you're tired of getting notifications, or you just don't want to read the conversation, there is a way to mute it.
With the thread or message open, choose the "more" button, and then select the "mute" option. It's as easy as that. You can also do this for standard emails that are between you and another contact.
6. Hashtags Work in Gmail
Hashtags, like the ones you use on social networks, can actually help you organize your Gmail account much better. By including a hashtag at the bottom of your emails, Google chat, reminders or personal updates, you can easily search for the message later.
This allows you to group a series of emails together, like if you're working on a project and need to email a list of different collaborators. Hashtags work almost exactly like a bookmark.
Of course, this list only includes 6 tips for getting the most out of your email, but there are countless others. What kind of tips can you share that improve your experience?