In a recent article, I told you about some basic changes that you could make, to get started with your *new* or *soon-to-be-new* Facebook Page (i.e. Fan Page).
Today I want to talk about how to change an application icon/avatar. Previously, they were, uh, sort of small, and I relied on the text to entice people, with the use of symbols like >> and << (did I just highlight the word, "and!"). Anyway, with the new FB Page, the graphics are that much more important, and really, who is going to buy my album based on a generic FBML icon. I mean, would you? I would think that whoever the musician is, they, uh, may not have finished the album?!
Let's fix that, shall we?

First thing, is to click on the pull-down-thing to the right, next to apps. It is possible you may be able to skip this step, but I tried and after 15 times of ending up on the application instead of editing the application icon, I decided it is easier to go with this step. Possibly Facebook will change it so that it is not required at some point, but no sweat for the extra millisecond.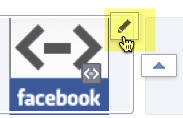 If you hover over the application icon, you will notice a *pencil* icon in the top right corner of the app icon. Click on that.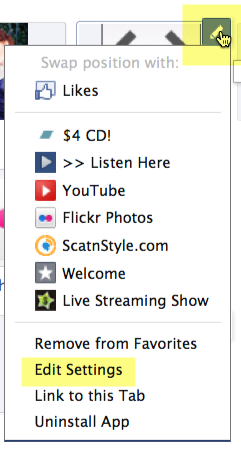 After clicking on the pencil, choose "Edit Settings."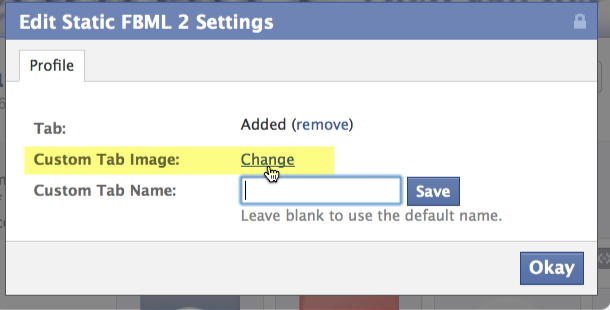 Now that you have its attention, click on "Change" in the box, to the right of "Custom Tab Image."

And, again, click "Change" in the resulting box. A new tab or window should open. However, if that is not your experience, do not worry about it.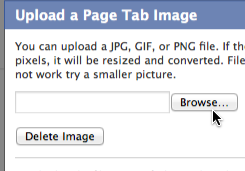 Click Browse… and locate your image. Remember this is a small image, so you don't need that high-resolution 20 in by 20 in for the icon. Use a smaller one, instead.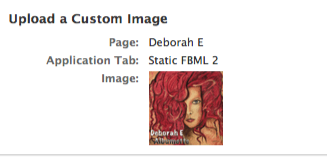 Wah-lah – an image replacement!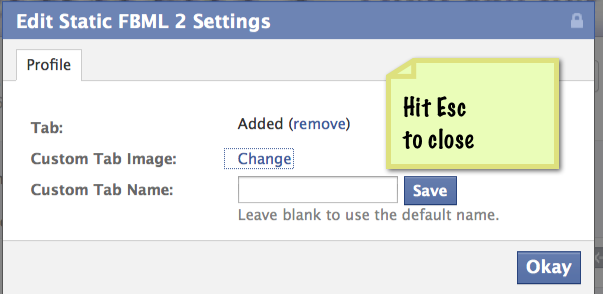 You can close this window (assuming it really did open in another tab or window). You may notice that your original tab or page still shows the window for change. If it does, just hit "ESC" to close it. This seems like a bug to me, and more than likely Facebook will correct it.

Now, doesn't that look much better? I think my smiling face is more enticing to buy my album than a generic looking FBML icon, don't you? 🙂