While many of you may have already figured this out, and still others of you are wondering *why* you would ever need to know this, there are a few of you (i.e. those requiring my assistance) who would like to know how to add an admin to your Facebook Fan Page.
The steps, below, will work whether you have the "Old" Facebook version, or the new "Timeline" version.
Ready, set? Here we go:
Adding the Admin

Ensure that you are logged into Facebook as a current admin of your Fan Page and go to your Fan Page. Click on "Edit Page."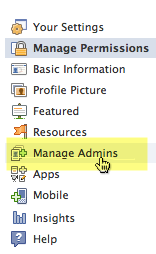 On the left side of the screen, click on Manage Admins.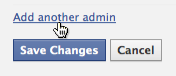 You will see at least one admin listed in the right area of your screen (that should be You!), and then an option to add another admin. Click on the "Add another admin" link and add your admin! (Can anyone say "add" and "admin" another five times!)
You should be all set and ready to go – delegating some of those tasks to the new admin!