Recently, my hubby and I decided to have an afternoon date and picked a nostalgic, fifties-style diner to visit. At first, it seemed very charming. The waitress was a little rude and brusque, but we found it entertaining and adding a certain charm to the place. The place had less than 5 tables filled. Even with its small size, this still left quite a few tables open. The staff was plentiful enough that they seemed to almost trip over themselves.
We were sadly mistaken about the "charm."
Soon after we ordered, another couple came in and sat near us. They were quietly perusing their menu when the waitress came over and abruptly asked them what they wanted to order. The gentleman politely requested some more time to decide. She insisted on drinks. Again, he said that they needed more time and in an effort to appease her, asked for some waters. She interrupted him, again, to insist that he give his meal order. He again, calmly, requested more time. She walked away. So did they, slipping out of the restaurant and away, probably for good.
After my hubby and I had been there about fifteen minutes, and I had enjoyed my soup and uncharacteristically eaten my bread before my meal, the waitress came over and looked at my untouched plate and said, "You take a reeeeallly long time to eat." Now, had she laughed, or made it sound like a joke, that would have been one thing, but instead, she accompanied the comment with a long, condescending, condemning glare. I felt instantly humiliated and embarrassed.
We finished our food in silence (in contrast to the cheerful banter we had been enjoying with one another before that), left our drinks, paid the bill, and exited the establishment, wishing we had been as wise as the previous customer and left BEFORE ordering anything!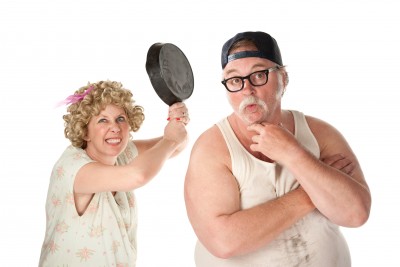 There seems to be a trend here, and I don't know if this woman was having a bad day or what, but if it was that bad, maybe she should have avoided interacting with people. I mean, honestly, I can find places to get insulted. I could visit my mother-in-law and tell her I don't like how she folds her towels. I could find rude people in the grocery store and hang out near them. I could find the crankiest person and get in their face, unsolicited and they probably would insult me. The point is, I can get insulted FREE OF CHARGE, so why visit this restaurant and pay for it.
Please, people, think about customer service in sales AND client retention. It is THAT IMPORTANT.