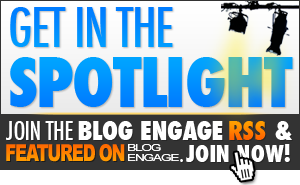 I love to chat. You know that, I'm sure! Hey, should I change my slogan from "…because the web should be fun…" to "I love to chat?"
Have you ever wanted to chat and not sure who you should chat with or where? Oh, I know, you have your mother, you have the guys at work, you have the dog… Well, sometimes it is nice to network! And, I have found the absolutely most *perfect* web site for that! It is BlogEngage. Brian has put together such a great service and engagement platform that I visit it every day!
And, it isn't one of those sites where the owner puts it up and walks away. Brian maintains it, almost as if it is an art form, ensuring that it is running smoothly, improving it, engaging with people. He is an example of how to use it, real-time!
Oh, hey, the chat and engagement aspect is what appeals to me, but how about the business benefits, as in $$$? You have increased traffic, exposure, opportunities for featured articles, back-linking, your RSS feeds syndicated, contests to win $$$… to name a few benefits of the BlogEnage program…
Now, let's get a little bit of the legal stuff out of the way. It is true that there is an affiliate program and that I have the link here, in this post, but that is not why I am writing this post. I am writing it because I believe in the service, which is why I am recommending that you try it out as well.
And, there is no better time than now. Why? Because Brian is running an AWESOME program. I mean, A-W-E-S-O-M-E! Ok, stop reading for just a moment and check out the graphic here: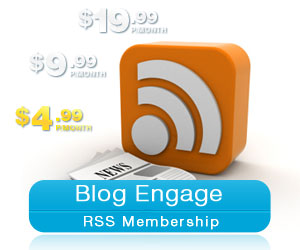 Cool. Ok, so what does that mean to you? Do you see the $19.99 price tag? Ok. Well look lower down to the $4.99 price tag. You, yes, you, have the opportunity to get some of the $19.99 services for $4.99!
So, all this fun that I am having? You can have it for less! This month only. But, no obligation beyond this month. So, instead of reading about me blabbering about how wonderful BlogEngage is, check out the BlogEngage Blow-Out Special yourself!
Confused by what BlogEngage is all about? I was there, too, once. No worries, I'm here for you and drop me a note and I can answer your questions about how I use BlogEngage daily to help me get traffic and network and all the awesome benefits!