To truly feel that one has made the right decision about something, there is a need to travel down the path of decision, sometimes wrought with trial and error. The same is true of choosing an email marketing solution provider. In the United States, we call this "due diligence" and that can apply to many different areas, including a hiring process in Corporate America. The reason that this process is so important, no matter what you want to label it, is because it provides the confidence that the right decision has been made.
This is the case with my decision to choose GetResponse. I'm going to share a bit of my story with you.. allowing you a glimpse into that path, as if you are walking it with me. I wouldn't want you to make your decision solely based on my path or my decision. This type of decision needs to be subjected to your own process of due diligence. However, my hope is that by sharing my story, that you will have data and insights into your own process of decision-making. In the end, you will be able to have the confidence that you, too, have made the right decision for you.

Best of Both Worlds
When my husband and I ran our hosting company, we began to offer what used to be called "list management." Personally, I thought that that was a thrilling service to offer to our clients. Part of that is because of my developer background and I loved designing interfaces for our clients, helping them to build their email lists and facilitating the sending of their newsletters (or ezines). We used a server application called CommuniGate to create a user interface for our customers. Yes, we are talking hard-core application development and we had our own servers (as opposed to leased servers in another location).
I share all this to say that for me, personally, I loved the thrill of email marketing, from the technical side, behind the scenes. I admit that this is unusual and that most people want the easy answer and not to have to worry about all the technical stuff. Fortunately, GetResponse actually addressed that innermost need or want for technical geekiness, without ignoring the needs of the majority.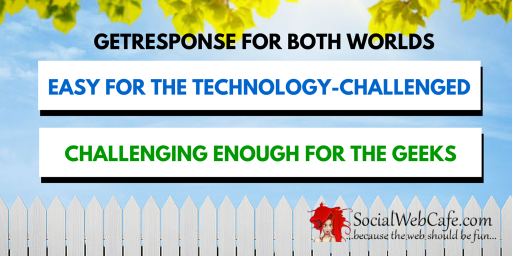 What am I babbling about here? GetResponse allows a person to get as geeky or technical as they want. They also allow people to have the "easy solution" that has no requirement for technical expertise whatsoever. There are not many solutions that do this. What I found, when looking at other solutions was that either 1) the solution was so easy (or limited) that there were not enough areas for customization and you were stuck with a "canned" solution that looked like everybody else, or 2) it was so technical that it was too hard for most people to use.
The Pivotal Point
The infographic, above, shows some key features that are important to me and to other marketers. It is a short list, but an important list. Many of the competing email marketing providers offer these features (with one exception). However, features aside, the pivotal point, for me, came when I met Abby Hartz, Community Manager for GetResponse.
The evening that I decided to feature GetResponse on our #SocialCafe Event (Twitter Chat and Panel Discussion) was like any other night. In my mind, I was simply interviewing someone from a tool and providing helpful information to the #SocialCafe community so that they could make an informed decision on whether or not they wanted to try the GetResponse service. I was personally content with my current provider at the time and I was resolute and determined that I was not looking for a new provider.
That is when it happened. Abby, herself, was just too nice and her responses to our questions were spot on, for what GetResponse provides. What sealed the deal was that GetResponse offers the 30 day trial so I could double check and ensure that this was not some emotional response and that the GetResponse service really was everything I was looking for in an email marketing software/tool.
I didn't want to admit that meeting a person could have that much influence on my decision to use a tool. It seemed to me that it should have more to do with the features of the tool. But, that is the reality. You see, the person of Abby Hartz may have swayed me, but the features of the GetResponse product was and is rock solid. It was no longer just about a nice person, but GetResponse was getting an A+ in my book.
The Feature List
Here is a list of desired features for an email marketing software/application:
email creator
A/B testing
form builder
landing pages
autoresponder follow-up
drag-and-drop editor
subscriber segmentation
expert customer service
professionally designed templates
mobile-ready / responsive designs
Comparing the Competition
When I sat down to think about it, I realized that actually I had tried several different email marketing solutions before settling on GetResponse. That list includes:
… in addition to GetResponse
I mean no disrespect to any of the providers that I mention above, but I am going to shoot it straight on my actual experience and why I opted to discard (or modify) each of them, as far as their position in my overall marketing strategy.
CommuniGate
I would use CommuniGate any day, but for different reasons. I loved providing an email marketing solution because I loved to tweak it. However, I am in no mood to compete with GetResponse. Therefore, CommuniGate is off the list. Simply put, it is overkill to set up a server solution for thousands of dollars when I can use GetResponse for far less!
Your Mailing List Provider (YMLP)
I used YMLP for a client. No offense, YMLP, but I have not seen an interface that was so confusing! What should have been a quick process took about SIX times as long just doing basic tasks. Also, it didn't work quite right which only made me wonder, for every moment of the time that I was using it, whether something was going wrong. You would hate to spend 60 min doing something that should take 10 min only to find out that the system accidentally deleted your list or something. Hopefully the service has improved since I used it a few years ago, but that was enough for me to not want to take the chance again.
Aweber
Aweber really does have a quality product. There are no real serious complaints on the features that they offer. However, I found that GetResponse was easier to use and GR is less expensive. They may be close, as far as pricing, but if you can get something that saves you more time (because it is easier to navigate) and saves money, then the decision is almost made for you.
When comparing Aweber and GetResponse, I felt like I was comparing a lifeless department store (Aweber) with a lively corner store, where everybody in the neighborhood knew each other and we all had block parties every weekend (GetReponse).  It is simply that sort of place where you feel welcome and you look forward to logging into to that GetResponse interface because you know that your needs are going to be met and you are going to feel all warm and fuzzy.  There is no price tag to that.
Vertical Response
The main reason that I left Vertical Response was that their interface for creating a newsletter took too much time. For one of my sites (5hugsaday.com), I create quote images. It is an easy site and only takes the time that is involved in selecting an image, creating the quote version of it, inserting the quote text and link, and that is it.
The email newsletter version was simply supposed to be like a mini-site version. Nothing complicated, just a reminder to my subscribers on what two quotes were featured that week and an encouragement to visit the site to read past quotes. However, I found that it was taking me FOUR times as long to create the newsletter as the original quote post! I would copy the html code from the site and insert it into the newsletter, but the amount of tweaking that it needed to get it to look right was excessive. This was not a good ROI (return on investment) for time! Keep in mind that I am highly technical (= time savings), but I am also insistent on high quality (= increased time). With these two personal qualities, it still should not have increased my time allotment by FOUR times the amount of time of the initial post. I'm sorry Vertical Response, but I just had to leave.
Feedblitz
I found a solution to my email-version-of-the-site problem that started with Vertical Response. I found that with the Feedblitz service that automatically creates a newsletter based on the RSS feed from my blog. Actually, the resulting newsletter was practically perfect. It looked like my site and other than a couple of initial settings, it was created and delivered with no effort on my part.
So, why was Feedblitz not the answer? Quite simply, it is not really a fair comparison. It would be like me coming to you and saying, "Hey I am in search of the most delicious kind of apple ever known to man (or woman)." Then, I hand you an orange. They may both be fruits, but they really shouldn't be compared. I still use Feedblitz, but it serves a different purpose.
For example, let's say that you use Feedblitz and it is successfully delivering web site content to your subscribers. Now, you want to send out a special feature or campaign. You would basically need to login to your web site, create a post, publish it, then wait for the RSS feed process to funnel it through Feedblitz to your subscribers. It would be so much simpler to log in and create the newsletter or update yourself. That is what GetResponse allows you to do.
You may actually want to subscribe to both (which is what I do). Feedblitz is actually so inexpensive that I have it set up for all of my sites, but I still use GetResponse for my email marketing.
Reverbnation
On the topic of subscribing to more than one, Reverbnation mailing list comes to mind. First of all, Reverbnation is for musicians. So, if you are not a musician, with a profile set up on Reverbnation, this portion of the article is probably of little interest. But, I mention it to say that there are specialty solutions out there, as well. Personally I still use Reverbnation because I have 45k fans and it is integrated into my RN profile. It is a specialty product and similar to the comparison between Feedblitz and GetResponse, it is like comparing apples and oranges. However, as a solution, the newsletter design is a bit clunky. It isn't quite as bad as Vertical Response, but let's just say that if it were not for the specialty aspect, with the integration, Reverbnation (as much as I love them!) would not be on my list for email marketing providers.
MailChimp
When I was recovering from my Vertical Response newsletter design nightmare, I signed up for MailChimp. It seemed like a logical decision. After all, I really liked the newsletters that I received from associates. The MailChimp templates were impressive. There wasn't really a template that I disliked. Also, the best news was that it was free! Correction, it is free to sign up for a MailChimp account, but if you have any sort of list at all, it does cost money.
MailChimp did not disappoint me in the area of templates. However, I felt like I was missing features. MailChimp does have features, but it seemed like I was using "email marketing LITE" instead of a full-featured software solution. There were just too many limitations and I found myself wanting to dust off the servers and fire up CommuniGate (remember, the overkill solution?). It was then that I switched to GetResponse and, well, you could say the rest is history and I am living happily ever after at this point.
Also, I heard rumor (which does not bear repeating because it is just that, a rumor), that a good friend of mine experienced a situation that affected his business where MailChimp may not have practiced some communication skills before taking an action that was detrimental. Even if this is completely false and didn't happen, these things sort of leave a person concerned that history could repeat itself. Considering I had not been successful in really getting support from MailChimp and yet Ms. Abby Hartz (GetResponse) and her community team was very easy to reach.. Well, that is where the "people factor" really seals the deal. If more companies would practice what GetResponse does and put some energy (and salaries) into finding the right people who take care of their customers well, they would realize more success in their business. And, that is some free advice coming from me, who is only about a dissertation away from a PhD in business psychology.
In comparing MailChimp to GetResponse, I get more bang from my buck at GetResponse.  It is misleading, at first, when looking at MailChimp and saying, "It's free."  Ok, it may be free to sign-up, but technically, so is GetResponse (for the first 30 days).  If you read the fine print you will see that to truly use MailChimp, you do get to a point where you are paying for the service.  So, before comparing he two on the basis of cost, compare it regardless of the cost because you will be paying for the service, eventually, as a successful email marketer.
| Feature | Aweber | GetResponse | MailChimp |
| --- | --- | --- | --- |
| email newsletters |  X |  X |  X |
| professionally designed templates |  X |  X |  X |
| publish to web |  X |  X |  X |
| mobile-ready / responsive designs |  X |  X |  X |
| rss to email |  X |  X |  X |
| html editor |  X |  X |  X |
| form builder |  X |  X |  X |
| drag-and-drop editor |  X |  X |  X |
| autoresponder |  X |  X |  X |
| A/B testing |  X |  X |  X |
| landing pages | NO | YES | NO |
| email deliverability optimization |  X |  X |  X |
| contact management |  X |  X |  X |
| subscriber segmentation |  X |  X |  X |
| email marketing tracking and analytics |  X |  X |  X |
| developer api |  X |  X |  X |
| scheduling |  X |  X |  X |
| expert customer service |  X |  X |  X |
Sidebar: The Importance of Email Marketing
Email marketing is very key (in some cases the central point) to a marketing strategy. While my friend, PJ Van Hulle may be using a service other than GetResponse (she recommends Infusion Soft), she makes some valid points in why email marketing is so important. Most of the video, below, is about her (and an inspiring story!), but it also includes some quick tips at the end. She describes how she uses her email marketing software to do some advanced stuff. You know what the thrilling part was (beyond listening to her tell her inspiring story)? I immediately found that GetResponse has the same features and abilities as what Ms. Hulle describes! And, in my self-declared biased opinion, GetResponse rocks, when it comes to these features.
Sign up for list-a-palooza.com (affiliate link) …with an opportunity to "catch up" by purchasing the low-priced $27 package .. all 90 days of inspiration and motivation!
What Matters Most
When it comes to email marketing solutions (and actually, any solution), what matters most to me is the "people factor." This means that my clients matter to me and I would like to matter to the company to whom I am paying money. That is the case with GetResponse. Simply watch Abby Hartz in the videos on this page and you will see the same thing that I am seeing. And, experience it yourself. Ask for help from the marvelous team at GetResponse and you will see it, too.
Your Own Checklist of Important Factors
Now that you have had a taste of my personal journey in choosing my email marketing provider, what is it that is percolating in your head? What features have you determined that you simply can't live without, when it comes to your email marketing provider (tool)? Feel free to borrow my list and add to it. Or, maybe you have a completely different list. Take 5 min and brainstorm the most important features. You can break that down into have to have and want to have. Then, after you have created your list, it is time to sit down and decide which providers you want to check out and how you are going to go about doing your "due diligence" in selecting the right one for you. Personally, I say go for GetResponse, but truly this is a path that you need to travel and hopefully I have provided you with some food for thought, while you travel it.