It is not often that I get an urge to "get up and go" and make a difference in the world at the time that I'm about to lay my pretty little head down to sleep for the night. But, I read a post that does just that. It puts a spring in my step, hope in my eyes, and whispers, "Your viral dreams really COULD come true."
That post is one by Gail Gardner, at Growmap.com, entitled Viral Marketing: Using Viral Social Media to Create Viral Content.
In her article, Ms. Gardner actually talks about ways in which YOU can make a difference and help your video, or post, or picture, or any content, to go viral. She points out real-life YouTube examples and talks about WHY those particular YouTube videos went viral. This gives everyone hope on how they can do it themselves, and also, helps to dispel the idea that it "just happens." Oh, yes, Ms. Gardner talks about that as well.
How To Go Viral According to YouTube
One of the videos that Ms. Gardner shows is the following YouTube by Kevin Allocca, YouTube's "Trends Manager." Now, working for YouTube, and having access to THAT data, should make you, uh, a little knowledgeable in that area, right? Watch the video, first, then read on (please 😉 ).
httpv://youtu.be/BpxVIwCbBK0
Ok, you've finished watching it? Mr. Allocca makes 3 suggestions on how to go viral on YouTube.
They are:
Tastemakers
Participation
Unexpectedness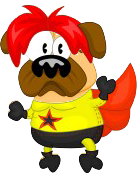 The Underdog
Ms. Gardner highlights this well in her post when she gives you an example of two videos by a certain company. One shows "the video" that garnered so much attention, and the second video gives a little background on how they got there. One thing that is really encouraging to me is that the choice of this company was actually the underdog. Yes, choosing the least popular marketing viewpoint garnered them OVER 17 MILLION VIEWS! Doesn't that give you hope? Do you realize that you, too, can go viral and rake in the views, even if you are not a "Big Dog" company. Yes, even the underdog, be it the company or the marketing student with the "underdog opinion," can make it! Want to more about this? Read >> Viral Marketing: Using Viral Social Media to Create Viral Content.
Look, if a cartoon of a cat that looks more like a Pop Tart flying through the air can go viral, don't you think that you can, too?
Disclaimer: The author of this post is perfectly in her right mind. Tired, maybe, but still in that right mind. If the sentence, above, makes no sense, it may mean that you need to watch Kevin Allocca's video, above, to fully comprehend it.