A few years ago nobody knew what a blog was, it sounds like a mish mash of words associated with a two year olds' vocabulary. But it seems that everyone has their own blog these days, and they are becoming an interesting way to make some money. If you are thinking about getting in on this action, please read this article for some more information that may help you.
What Is a Blog?
A blog is a discussion or informational site hosted on the world wide web. They can be the work of an individual or a group and they usually specialize in a main topic of discussion. Blogs are now a very big part of how businesses and individuals generate web traffic in a way that brings them more business and profits.
Let Us Begin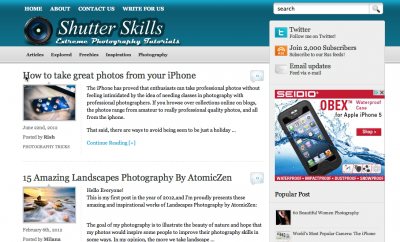 So you would like to start your own blog, but you first need to think of a decent concept. People like to read about stuff that they are interested in and you need to align your own knowledge with these needs. Your topic should be something that is popular and also upbeat. It may be your hobby or even your business/professional interests.
Concepts And Purpose
If you are struggling to come up with a catchy subject for your blog, why not think of these four suggestions and tailor them to your own area of interest:
Teach people how to do something that you are adept at. You need to be passionate and very knowledgeable and you will soon attract a host of followers.
Keep people updated with the latest developments and news stories relating to your chosen topic. You need to be able to present yourself as a guru to your followers. They will soon use your blog as the first point of contact when it comes to keeping in touch with your specialist subject.
If you have a way with words you can use this to your advantage. People love to be entertained and you can soon expect a horde of followers eager to hear your latest take on the state of the nation.
Perhaps you feel the need to inspire and help others less fortunate than you. Use your experience in difficult situations to encourage people going through a similar hardship.
Kill The Competition
No matter how interesting and witty your blog may be, you will no doubt face stiff competition from one or more bloggers with similar specialist skills. In order to beat the rivals you will need to ensure that your blog is the first one that potential users find with the search engine tool. Here are two surefire ways to help you in this respect:
Think of a catchy title. People love to see an imaginative and witty blog name.
Ensure that your blog is the one that they find when they type in their favorite subject on the Google toolbar. You can do this by using popular keywords on your blog, a little bit of research should help you in this area.
By following these simple tips, you should soon be enjoying your new band of followers – Good Luck!