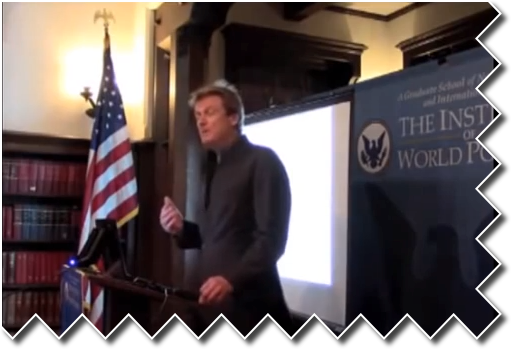 Background
I know. You are all wondering what just happened… Are you on the right blog? Yes, you are! Many of you know me, and the many hats that I wear. I try to spare you the confusion by breaking those "hats" into different properties online. But, I am going to pull back the curtain and introduce some of the other "Deborahs," and as a part of that, introduce you to an important message that is near and dear to my heart, delivered eloquently by Patrick Byrne, CEO of Overstock.com. Read on to figure out what the heck Deborah is babbling about…
First of all, you know me as the subject matter expert in social media (this blog), as well as video and Google+ Hangouts. However, did you know that I am also a chart topping (RN charts) Jazz singer, Deborah E?. And, relevant to this article, the beta stage blog, Tech-Audit.com? Out of the experiences that led to the inception of Tech Audit (socially responsible technology), came the pursuit of the completion of Deborah's Master's Degree in I/O psychology, to help to identify the future "Madoffs" of the world before harm besets the community and their financial security.
As you can tell, Patrick Byrne's message hits home! What he speaks about in this video is what Deborah was exposed to in her role as Chief Technology Officer in the financial industry. There is definitely a story there, but one that has remained behind the scenes. Enough of a story that Deborah is pursuing avenues to help stop this type of behavior from causing harm. And, so, it is with great honor that I, Deborah, present Mr. Byrne and his message today.
Sit back with me and let's watch as Mr. Patrick Byrne "Discusses Economic Warfare as an Instrument of Transnational Organized Crime."
This is a Sponsored post written by me on behalf of Deep Capture Blog for SocialSpark. All opinions are 100% mine.
Do you find that stock trading is confusing? So confusing that maybe you avoid it, or simply hand over your money to your stock broker and trust him or her to invest it for you? Does the discussion of "hedge funds" make you think of your neighbor's greenery, wondering when they are going to clip it? That confusion is part of what those less-scrupulous members of society count on, to practice stock market manipulation.
Impacting the Individuals
There are many different methods of stock market manipulation that exist, including personally devastating methods like Madoff's ponzi scheme and other schemes like "cherry picking." No matter what the level of fraud, it remains fraud and is damaging to those affected, as well as the greater community, which is impacted by the effects of stock marketing manipulation.
Some highlights that Mr. Byrne shares include "naked short selling" which is no more short selling than it is naked. Rather, it is a way of manipulating the market, by making it look legitimate to the un-informed consumer, but manipulating it to benefit themselves, in a fraudulent manner.
White-collar crime doesn't stop at affecting individuals only. It also enters the arena of enterprise level, as well. After all fraud doesn't have a defining end point, with a constant grab for more and more, regardless of the cost to individuals or enterprises.
Enterprise Level Manipulation
Enter organized crime. It may not look like organized crime, with a nice suit and tie, walking the streets of Wall Street and dining at top restaurants and charity organizations, but organized crime entered into high finance a few decades ago and groomed a path and position that continue today.
The Mafia Term: "Bust Out"
Mr. Byrne describes the process of "bust out" by sharing a scene from "The Sopranos," helping to illustrate how the process works. It is a three step process that includes, to quote Mr. Byrne:
Leveraging the business up.
Depleting the cash
Burning it down for more profits.
This scenario is played out quite a bit in different plots in Hollywood productions. It is also played out in the real world of economic warfare.
Do you remember the S&L fiascos of years past? Back in the day, it was as if each day brought another story of S&L fraud. These are examples of "bust out." As Mr. Byrne calls it, it is "plundering an economic enterprise."
Looking Ahead
Patrick Byrne drops names.. He tells the story. He shares the stories from history that created the framework and foundation on which organized crime has entered high finance.
Ok, now that you have watched the video, I have a suggestion. Watch it again! Or, take a break, let it percolate a bit, and come back and watch again.
I am here to listen. We are here to listen. Comment on your thoughts, in the comment section below. Your questions. Your concerns. Your stories. Let's face this together and make a better, safer, fraud-free world to live in.